The most widely used radon test in the world.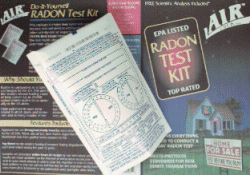 Our test kit's ease of use and accurate test results, along with our reputation for same day processing, have resulted in Air Chek's radon test being used more than 2,000,000 times in homes worldwide, in over 250,000 of the nation's schoolrooms, and in thousands of workplaces!
For less than $15 (not available in NJ) you can conduct a radon test using our nationally certified services. Our price includes everything, all shipping (via U.S.mail), fully certified analysis (approved in every state and all U.S. Territories), and your complete written report that explains what the result means and what you may or may not need to do next.
Air Chek, Inc. All rights reserved.